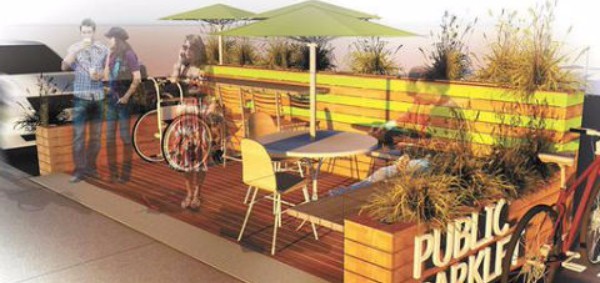 Ever heard of a 'pocket park' sometimes known as a 'parklet'? Pocket Parks are a compact recreation area that utilises any (often wasted) small common space that is too small to be much use for anything. They literally make a 'place', often utilising reclaimed space, for the recreation benefit of the community and at the same time, add aesthetic improvement. Concept picture is courtesy of www.parksleisure.com.au .
Pocket Parks are a highly successful and cost effective way of transforming public spaces and streetscapes which need beautification or which lack identity. These pockets of space can be found indoors - within building atriums, offices complexes or campuses, or they can be found outdoors in malls, shopfronts, car parks, back lanes and many other spaces with pockets of room.
Are you thinking about how to make the best use of your public spaces?
AS Urban supply street furniture that is perfectly suited to pocket parks. The extensive range includes the new Orbit Series tables and stools, Café Market Umbrellas, Picnic Settings, sublime teak timber furniture, Wall Mounted Table & Bench combinations, Park Benches, Micro Bike Racks and bike rails, compact Rubbish Bins, signage and easy access products such as tactiles, wheelchair ramps and anti-slip stair nosing.
We now also supply tree guards and anti-terrorism bollards in attractive concrete shapes.
Contact Us today to discuss your requirements or obtain a prompt sales proposal.